The Revival of
a Masterpiece
No. 1 Palace Street, The St. Regis Residences is where world-class facilities and impeccable service perfectly blend in a unique 300,000 sq ft island site, which features exceptional views towards Buckingham Palace. It is an extraordinary historic revival, unique in London for its seamless integration of five architectural styles – Italian Renaissance, Beaux-Arts, French Renaissance, Queen Anne, and 21st-century Contemporary.
Steeped in history, this exclusive London residence was once home to one of London's first five-star establishments, the Palace Hotel. Constructed in 1860, this iconic destination was popular with Queen Victoria's distinguished guests. Visiting dukes, duchesses and foreign dignitaries would often stay here following a visit to Buckingham Palace, just across the road.
Today, each perfectly appointed luxury apartment is intelligently designed and infused with both style and functionality for modern living. Behind the five distinct façades, 72 generously proportioned private residences are equipped with state-of-the-art luxuries and carefully considered design elements. Masterfully crafted from floor-to-ceiling, each tailored room setting is permeated with soft muted colour palettes. Adding to the sense of space and refinement, large-scale windows highlight the stunning interiors in an abundance of natural light.
With its prime central London location, No. 1 Palace Street, The St. Regis Residences enables The Luminaries of this world to Live Exquisite. Driven and accomplished, Luminaries are active creators motivated by a relentlessly independent spirit who inspire their communities with their ideas.  World-class art galleries including Tate Britain and fashionable shopping destinations such as Jermyn Street, Bond Street and Sloane Street surround this highly sought-after residence. Michelin-starred restaurants and verdant Royal Parks – Hyde, Green and St James's – are also just a short stroll away. When it comes to the resident's health and wellbeing the impressive swimming pool, high-tech gym and personal training suites are beyond compare.
This award-winning team of visionaries, experts and craftsmen have gone to extraordinary lengths to sensitively restore this iconic establishment. An undertaking of this magnitude requires a combination of over 30 years of specialist skill with radical thinking and a shared passion for all things luxury.
An Illustrious
History
With its grand entrances, impressive framework and unmatched location opposite Buckingham Palace, The Residences beautifully demonstrates the artistry of architecture. Combining five different building styles in one magnificent London residency, each unique façade is rich in British design history.
Thanks to Northacre's unrivalled knowledge and expertise in reviving and restoring historical buildings, the original mid-19th-century façade with its exquisite Italian Renaissance style, will remain a focal point of this new residential development.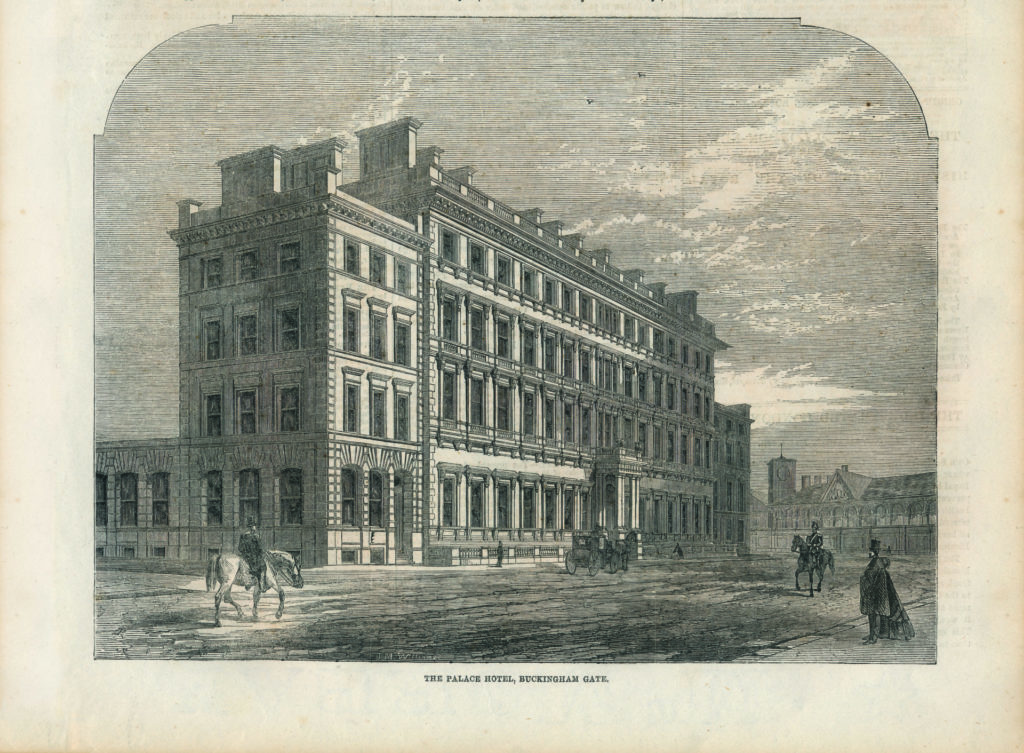 A Fusion of Five
Architectural Styles
The Residences are extraordinary for their flawless fusion of the finest British architectural styles. This includes a stunning modern component designed by award-winning architects, Squire + Partners. By celebrating the past, present and future in one of the greatest cities in the world, this prime central London establishment rewrites the rules on how a historic building can look. This incredible 300,000 sq ft island site spans Buckingham Gate, Stafford Place and Palace Street. Each distinct façade highlights quality craftsmanship and beauty in a choice of generous living spaces, specifically tailored to those who appreciate the finer things in life.